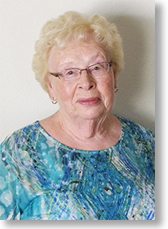 Mary has been with Knueve & Sons since the very beginning in 1970 with her late husband Frank Knueve. Mary was born in Fort Jennings in 1933 and graduated from the Fort Jennings High School in 1951.
Along with running a very successful business Mary and Frank raised six sons which has led to fifteen grandchildren and seven great grandchildren.
Mary loves volunteering at The Meadows of Kalida and loves to read, crochet and spend time with friends. Mary is always happy to cook delicious food and treats for her family at the Holidays and help people in need of a friend.