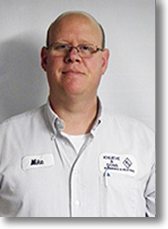 Mike has been with the company for 23 years. Mike was born and raised in Kalida, Ohio and has an Associate's Degree in HVAC from Terra Tech.
Mike has won the Top 10 Sales Award for the last 10 years.
Mike is married to his wife Andrea and they have two daughters and a dog "Chester". Mike enjoys spending time with his family, golf, and following the Browns and Reds.
Air Conditioner Installation in Ottawa, OH 45875
"We are very pleased with our new air conditioning and heating units that were installed earlier this summer. I don't remember the names of all the service men who attended to us, but everyone was professional and timely. Mike was very thorough when explaining our options and helping us decide what was best for our home. The follow up a month later was also very helpful. This allowed us time to ask questions and review how the units worked. We have used Knueves in the past and would recommend them for plumbing and heating needs."
- Anne S.
Furnace Maintenance in Findlay, OH 45840
"Woke up on a Sunday morning to no heat. I hate to be needy but after checking a few things on my own, I broke down and called. Mike had it fixed in less than 30 mins! Thank you for being there on a Sunday to help my family."
- Carolyn C.