To Our Valued Customers,
Knueve & Sons wants to do everything we can to help ensure the safety of our clients, team, and community. To accomplish this goal, we have instituted temporary changes in the way we provide services and products to our clients.
That said, we will be asking ALL customers if they are sick or have been in contact with anyone who is sick before we schedule any service calls or product pick-ups.
We apologize for any inconvenience this may cause you. Our team is doing our very best to be sure you have what you need to keep your home safe and comfortable during these challenging times.
Thank you,
The Knueve & Sons team
Your Comfort Is Our Concern!
Knueve & Sons is a family-owned and operated company with over 40 years in business. We serve Northwestern Ohio with heating and air conditioning, plumbing, bath and water treatment, standby generators, and much, much more.
We offer the best possible service and highly trained installation crews. At Knueve, we are a family and we treat you as part of our family as well. We will help you find solutions that will help your family be comfortable and healthy, and we will send friendly technicians who will get your job done right the first time.
Throughout our website, you'll find ideas for making your home a more comfortable and healthy place to live. Give us a call to discuss some of these ideas and how we can help you implement them in your home.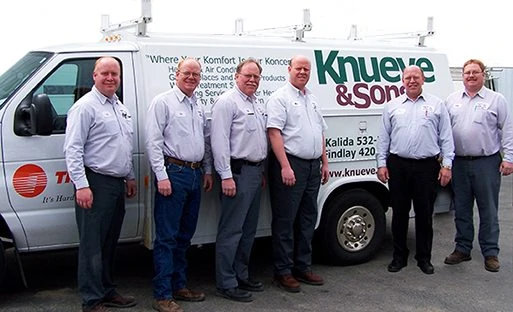 Our Most Recent Articles...
Your air conditioner cannot eliminate mold once it starts to grow. However, a well-maintained AC system can act as a mold deterrent. That's because it cools by converting excess moisture in the air to water, balancing the humidity in your home.
Read More