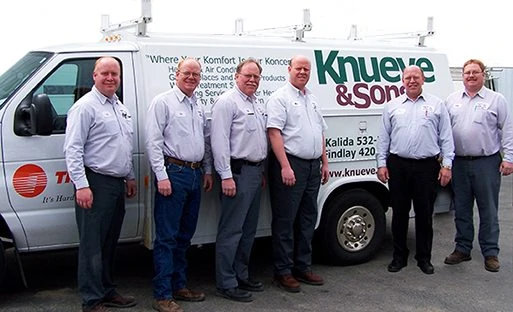 Why Knueve & Sons?
We know you have your choice of heating, cooling, and plumbing providers. We know you want the best for your home. And we know that busy schedules and financial strains can make it difficult to complete everything you want to in your home. But Knueve & Sons is here to help. Here are just some of the benefits we can bring to your home and family:
Experience
We have been in business since 1970, so you know you are getting experienced personnel who will be around for years to come.
Convenience
Knueve & Sons has two convenient locations—Kalida and Findlay. We also offer 24/7 emergency services.
Expert Care
All our technicians are factory trained, and our HVAC staff members are Trane Comfort Specialists. We are specialists in our industry—from residential and commercial heating and air conditioning, to plumbing services, bathroom remodels, water treatment systems, and air purification products and methods.
Peace of Mind
Testimonials prove that we keep our customers happy. We provide quick responses, exceptional work every time, and a commitment to be the best heating, air conditioning, and plumbing contractor you will ever hire.
A Little History
It started as a one-man shop back in 1970. Frank Knueve began working out of the back of the family station wagon doing bathroom remodels, and heating and plumbing service calls. He called his company Frank's Repair. In the mid-70s, Frank's growing boys started joining the company and the name changed to Frank Knueve & Sons. The boys were told, "Get in the ditch, you sons of a plumber. You're in the business now!"
More boys meant we could cover more area, so we expanded our service area beyond Putnam County in the 80s, and added Lennox and GE (now Trane) products to our line. One by one, sons Dan, Ron, Joe, Ed, Greg, and Mike each specialized in different segments of the company, and in 1991 the company was incorporated.
Our branch office and showroom in Findlay opened in 2000, and in 2006 we purchased Rick's Heating & Air when the owner retired.
Frank unexpectedly passed away in June, 1995, but the company continues to be run by his sons the way he would have wanted it. Mom is retired now and enjoying every minute! But she still stops by once in awhile to help out or visit or, if we're lucky, to deliver fresh chocolate chip cookies!
When it comes to your home's air and plumbing needs, remember Knueve & Sons, where your comfort is our concern!