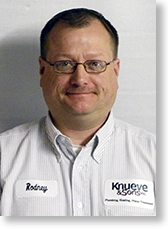 Rodney has been with Knueve & Sons for 16 years. Rodney has an Associate's Degree in Marketing and Sales from Owens Community College, is WQA Certified, CWS-I, CSR, and Water Right Top Earning Dealer for 3 years running.
Rodney is married to Jenny for 24 years and they have two sons and a daughter. In his spare time Rodney enjoys his family and his children's sports. He likes fishing and is a member of Eagles Club, the Glandorf Catholic Church and the Glandorf Rod-n-Gun Club.
Other in Defiance, OH 43512-2868
"Rodney was very friendly, professional and knowledgeable. He patiently answered all our questions and concerns when we were deciding which central air system to choose. He showed us exactly what they would be doing as far as the AC, furnace and AC lines running from the AC to the furnace. He made us feel confident that the work would be done right and was quick to answer my follow-up questions by email, literally in just a few minutes."
- Carl Q.